OPLAN BAYANIHAN Still Raging in the Cordillera
December 10, 2016
There is no improvement in the human rights situation in the Cordillera region.
In fact, human rights is fast deteriorating with the impunity in the war on drugs, creating a social consciousness that petty drug users and dealers are outside the protection of human rights. It is an extension of the psychological warfare innate in counter insurgency programs where political dissenters, armed or unarmed, are treated as terrorists and as such are exempted from the rule of law and human rights.
President Benigno Aquino III ended his term in June 2016 leaving behind the brutality of OPLAN BAYANIHAN inflicted against communities, people's organizations and the advocates supporting them. Such ruthlessness of OPLAN BAYANIHAN continued under President Rodrigo Duterte. While it is encouraging that President Duterte renewed the peace negotiation with the National Democratic Front of the Philippines (NDFP), accommodated "leftists" in his cabinet with public pronouncements of his brand of socialism and anti-American imperialism, fascism remains worrisome. While 17 NDFP consultants were released on bail, President Duterte is waylaying the fate of the more than 400 political prisoners with the forging of a bilateral ceasefire.
Continuing violation of ancestral territorial rights and militarization of indigenous communities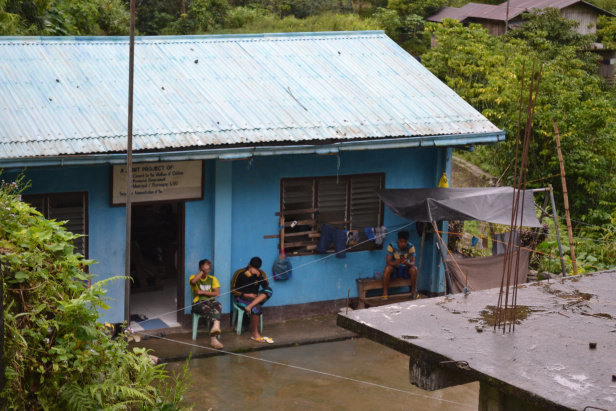 Occupation of communities by AFP troops did not stop despite the "back to barracks" order by President Duterte in August. In Ag-agama, Western Uma in Lubuagan Kalinga, the 50th IBPA remained encamped in civilian houses since October 2015. Civilians bear the atmosphere of fear with drunken soldiers roaming around sporting their guns and on several occasions accompanied with indiscriminate firing. A number of civilians encountered soldiers aiming their guns at them. Presence of soldier/s inside houses with women and girls are sources of worries and discomfort. Several girls and ladies, including married and pregnant women have been subjected to various sexual advances. Women and girls find limitation in using public washing and bathing areas as these are being used by soldiers. Divestment and destruction of crops and properties are common. Several women leaders were summoned to report to the camp as they were in the "roster" of the AFP. As several soldiers and CAFGU belong to "binodngan" tribes, the residents are forced to be cautious in dealing with abuses because of fear of tribal vendetta. On the contrary, the government forces seem to be unmindful of igniting tribal conflict.
In Sallapadan, Abra, in September, while conducting patrol operations in search of the New People's Army, the 24th IB encamped in residential communities. The soldiers announced that the unilateral ceasefire has already lapsed. In Ifugao, from July to September, around 300 soldiers from the 54th IBPA and 77th IB CAFGU conducted military operations in Tinoc and Asipulo where they set up patrol base in the elementary school and occupied houses in sitio Cocoy, Barangay Tukucan. Similar AFP occupation of communities were reported in Cervantes, Quirino and Tubo.
The AFP justifies the occupation of communities as civil-military operations or non-combat military operations. Such pretext as non-combat operation is an acceptance by the AFP that intruding in ancestral territories is intended in combatting people's resistance. The areas of perennial military occupations are areas targeted for large-scale mining and hydropower facilities that are being opposed by affected communities.
Meanwhile, Lepanto Consolidated Mining Company and Benguet Corporation continue to operate despite the suspension order from the Department of Environment and Natural Resources in September 27. According to the DENR audit, both companies have been violating environmental and mining laws. Affected communities meanwhile blame the 2 mining firms for land collapse, sinking, siltation and pollution, apart from the historical crime of land grabbing ancestral lands. While the DENR suspension did not include Philex Mining Company, the firm remains accountable for looting natural resources and its unsound mining infrastructure.
Continuing Detention of Political Dissenters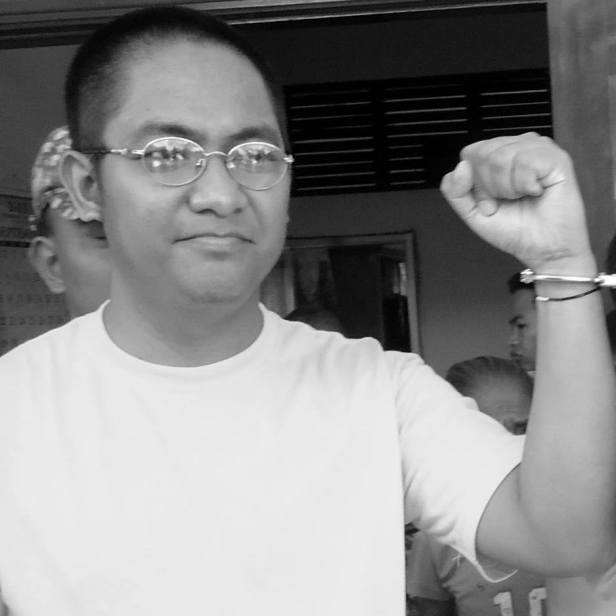 Nine political prisoners continue to languish in jail. The latest victim was an ailing retired rebel 72-year old Marcos Aggalao of Balbalan, Kalinga who was arrested in September. Three prisoners Eduardo Esteban from Jaro, Iloilo and Virgilio Corpuz and Rene Boy Abiva both from Cagayan Valley never set foot in the Cordillera but are now on their 3rd year of imprisonment for charges of murder and frustrated murder.
Continuing political persecution and curtailment of right to assembly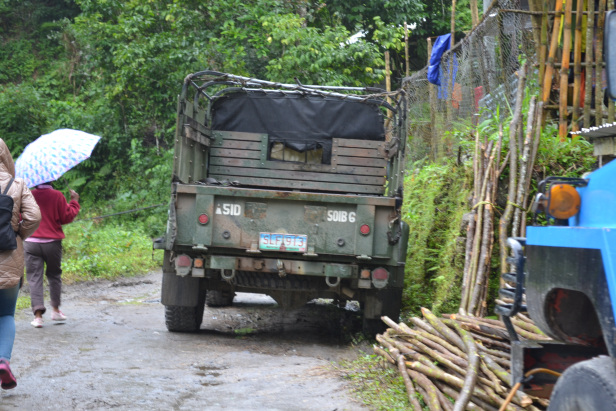 Leaders of the Ifugao Peoples Movement (IPM) continue to hurdle the political persecution systematically being hurled at them by the 5th ID PA. They remain listed in the 5th ID's "Order of Battle." They are frequently being harassed various forms of political vilification and threatened with lawsuits and warrants of arrest. The persecution of IPM leaders is associated with the opposition against the 350-megawatt hydroelectric project of SN Aboitiz in the Alimit River. The project will affect at least 9 villages in the ancestral territory of the Ayangan and at least 80 villages downstream.
Police fascism against peaceful political dissent is now raging in the national capital. National minorities, including the delegation from the Cordillera, were violently attacked by Police forces while en route to the US embassy to express their objection over the continuing intervention of the US in the Philippine patrimony and internal affairs, including the US-instigated OPLAN BAYANIHAN. The march to the US embassy is part of the convergence of Moros and indigenous peoples gathered in MetroManila for the "Lakbayan ng Pambansang Minorya para sa Makatarungang Hustisya at Sariling Pagpapasya."
Meanwhile, Benigno Aquino III remains liable to the human rights violations during his term. Aquino's human rights legacy is the unparalleled extrajudicial killings and violent persecution against the Lumads in Mindanao. In the Cordillera, Aquino III emboldened the brainchild of his mother Corazon Aquino, the Cordillera People's Liberation Army by having it renamed and granted millions of funds for so-called socio-economic projects. Further, Aquino is responsible for the willful killing of 11 civilians extra-judicially killed by the AFP. Among them were the 3 Ligiw family who were vocal against mining; human rights activist William Bugatti, Engineer Fidela Salvador, Noel Viste including 7 members of the NPA who were willfully killed during the 41st IBP 5th Infantry Division military combat operations in Lacub, Abra in violation of International Humanitarian Laws.
Gloria Macapagal Arroyo for her part remains accountable for the disappearance of James Balao and the extrajudicial killings of Markus Bangit, Alyce Omengan-Claver, Lakay Doton, Albert Terredano, Pepe Manegdeg and Romy Sanchez,at least 6 farmer-hunters, at least 2 NPA willfully killed by the police.
Non-recognition and unfulfilled reparation of Martial Law victims
Despite the adoption of the law as early as February 2013, then President Benigno Aquino III failed to officially recognize and grant reparation to the thousands of victims of Martial Law in the Cordillera region. Recognition and reparation has yet to be granted to: hundreds of Cordillera activists tortured, raped and incarcerated, killed and forcibly disappeared; Tingguians resisting logging operations who were tortured, killed and internally displaced; hundreds Kalingas resisting the Chico River dam who were tortured and jailed in Camp Olivas, Pamapanga; Ifugaos who were hamletted and many more. President Duterte further added insult to injury by allowing the burial of Marcos in the Libingan ng mga Bayani.
Call
As we commemorate the 67th year of the Universal Declaration of Human Rights, we re-affirm our right as Filipino people to resist imperialism, bureaucrat capitalism and monopoly landlordism. We re-affirm our right as national minorities to resist national oppression. Together, we re-affirm our calls: Itigil ang Pasistang Atake sa Mamamayan! Hustisya Para sa Biktima ng Diktadurang US-Marcos! Panagutin si Benigno Aquino at Lahat n Rehimen sa Kanilang Paglabag sa Karapatan Pantao! Makibaka Para sa Kapayapaan!
For reference:
Atty. Reynaldo Cortes, Chair-CHRA
Imelda Tabiando, Secretary General-CHRA