Stop the attacks against the people!
November 6, 2019
The Cordillera Peoples Alliance (CPA), Timpuyog Ti Mannalon iti Kalinga, progressive party lists and legitimate peoples' organizations and institutions are NOT terrorist fronts. They are true servants and defenders of the people that must not be attacked. They deserve respect and protection. This AFP list of lies and vilification must be scrapped.
Since its founding in 1984, the CPA has a track record of advancing indigenous peoples' rights and democratic rights of the Filipino people, and has gained credibility not only in the Cordillera but at national and international level. This includes the successful lobby for the inclusion of provisions on IP rights in the current Philippine Constitution.
Activism is not terrorism. It is not a crime. It is a necessity under conditions of injustice especially under the Duterte regime.
For the AFP to vilify, red-tag, and attack acivist organizations and civilians as "terrorist groups and fronts" is cowardice, outright violation of human rights and international humanitarian law, and a departure from their mandate and obligation to protect civilians who pay their salaries, benefits, etc.
The AFP's attacks against civilians further institutionalize Duterte's nationwide reign of terror and bloodshed. The AFP must be held accountable.
Stop the attacks against the people!
Reference:
CPA Chair, Windel Bolinget
*Photo was taken during the House Committee hearing on the AFP Modernization Program yesterday, November 5, where Major General Reuben Basiao presented a list of alleged communist terrorist fronts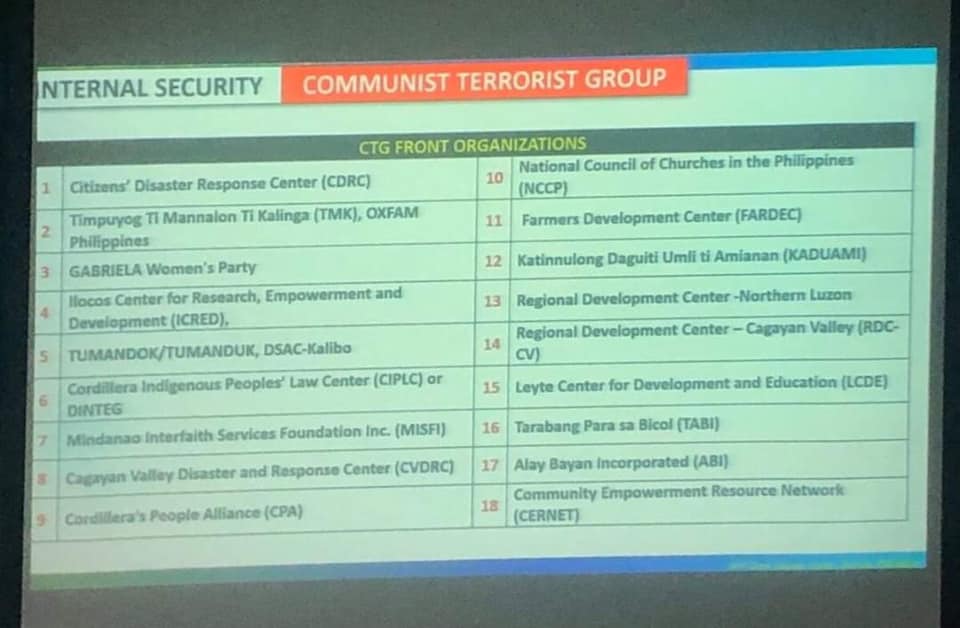 Share this: