Justice for Rafael Markus Bangit!
June 9, 2020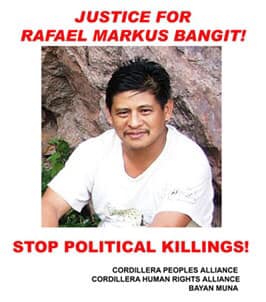 "Until our right to self-determination is recognized, the struggle will not end. Even if it means the sacrifice of our lives to achieve freedom, then SO BE IT!" - -Rafael Markus "Makoy" Bangit
14 years ago today, on June 8, 2006, four bullets took the life of Makoy Bangit in Echague, Isabela. He was on his way to Baguio City to enroll his eldest son in college. At the time of his death, he was a regional council member of the Cordillera Peoples Alliance, headings its elders desk, and was the regional coordinator and spokesperson of the Binodngan Peoples Organisation. He was a respected elder-leader (pangat) of the Malbong tribe in Tomiangan, Kalinga. He was a victim of President Gloria Arroyo's "counter-insurgency" policy, Oplan Bantay Laya.
Fourteen years after Makoy's death, justice remains elusive, the perpetrators are still on the loose, and a culture of impunity continues to reign under the Duterte regime.
On the 14th year of his death anniversary, the Cordillera Peoples Alliance is one with Makoy's family and friends in seeking justice for Makoy.
The fight continues. Extrajudicial killings remain a reality. In fact, even at this time of COVID-19 pandemic, threats and harassment against CPA leaders and members have intensified. The Anti-Terror Bill, if it becomes a law, will further institutionalize the political persecution, extrajudicial killings and other human rights violations against Cordillera activists.
#JunkAntiTerrorBill
#ResistAsOne
Reference:
Sarah Dekdeken
Chairperson, CPA Secretary General
Share this: