Kaigorotan stands with the Lumad:
Free our human rights defenders unjustly detained in Talaingod!
November 29, 2018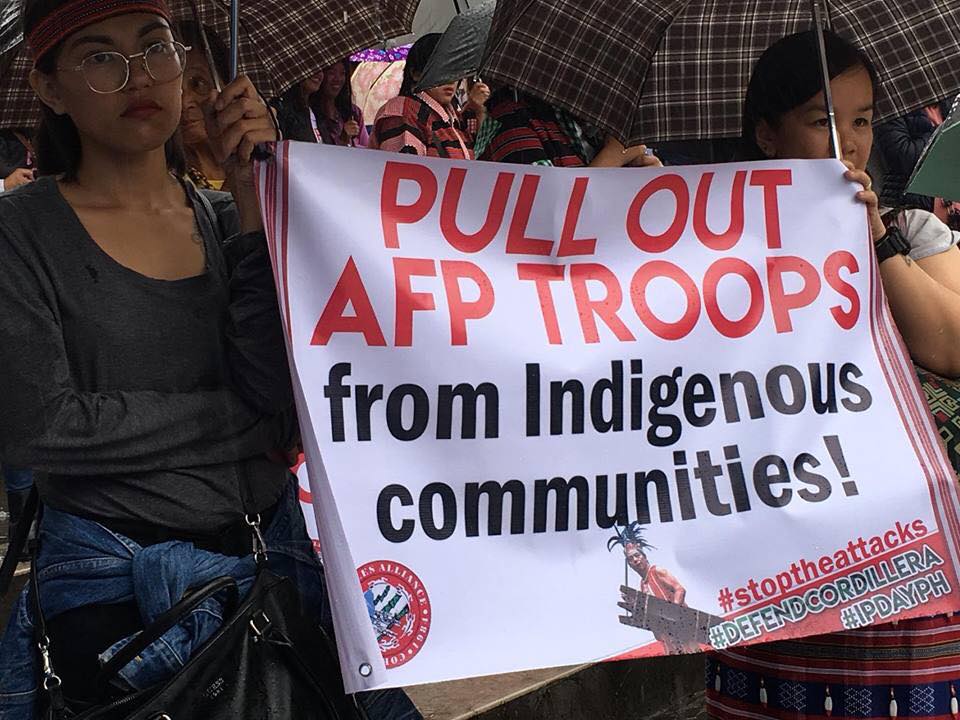 The Cordillera Peoples Alliance condemns in the strongest possible terms the harassment, detention and imminent filing of trumped-up cases against human rights defenders attending the National Solidarity Mission (NSM) to Talaingod, Davao del Norte.
The NSM which includes Katribu National Secretary General Pya Malayao - a Bontok-Kalinga leader, ACT Teachers Partylist Rep. France Castro and former Bayan Muna Rep. Satur Ocampo, aims to assist the fleeing students and teachers of Talaingod who have been persistently harassed and threatened by paramilitary group Alamara and elements of the military.
Like the Cordillera, the gold-rich ancestral land of Manobos in Talaingod is under threat of being invaded by large-scale mining operations which the communities have strongly expressed opposition to.
The lumad schools like the Salugpungan Ta'Tano Igkanugon Community Learning Center established by the communities themselves with the help of non-government organizations because of the lack of social services in indigenous communities such as education. They aim to teach basic education, numeracy, literacy and agriculture among other skills to enable the communities to understand the documents presented to them by those who try take away their land.
With the AFP acting as the investment security force of corporate mining interests, they continuously harass the Manobos to submission or be forced to flee their lands. Emboldened by the tyrannical Duterte regime and the martial law in Mindanao, paramilitary units like Alamara have terrorized communities and killed lumad leaders, teachers, women and children.
We demand the immediate release of all persons unjustly detained by the Talaingod PNP since last night, including the children of Talaingod from the hands of fascist state forces under the 56th IB. We demand the accountability of the commander-in-chief, Pres. Rodrigo Duterte himself, whose hands are drenched with the blood of thousands of Filipinos killed under his regime.
As we observe the International Women Human Rights Defenders Day, we ask our fellow Filipinos and the international community to join us in condemning all forms of human rights violations committed against indigenous peoples and the poor. We shall continue to stand together amidst the tyrannical attacks against our people.
We continue to stand with our Lumad brothers and sisters in defending our ancestral lands and our right to self-determination! End Martial Law in Mindanao! No to dictatorship!
Share this: