Statement of the Cordillera Peoples Alliance on the attacks against ABS-CBN, the freedom of the press, and people's democratic rights
May 5, 2020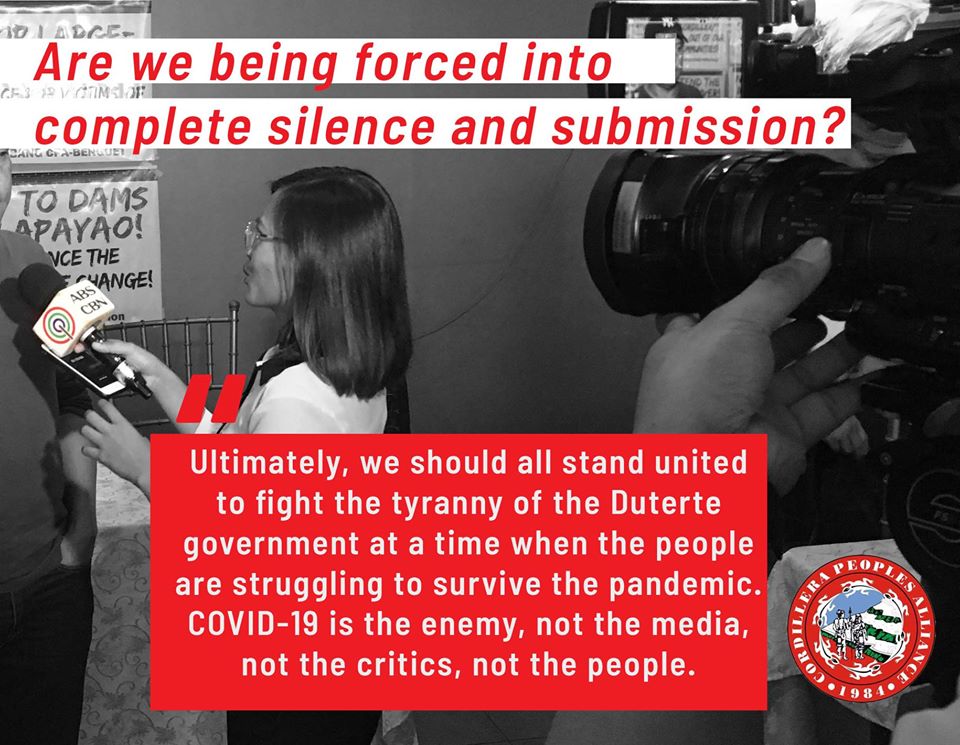 "Are we being forced into complete silence and submission?"
All freedom-loving Filipinos must unite to condemn the brazen attack on press freedom and all sense of humanity amid the COVID-19 pandemic, perpetuated by the Duterte government with the outright order to stop the operation of one of the biggest media network in the country.
ABS-CBN, among other media outfits, has been the subject of threats under the Duterte regime. Even before the deadline of its franchise renewal, Duterte singled-out ABS-CBN for not airing his political ads during the 2016 elections and even boldly declared that Congress will deny its franchise to continue. We all know why ABS-CBN has earned the ire of the president and why his supporters and even online trolls are pushing to end the company's operations. The ABS CBN shutdown, reminiscent of the Marcos dictatorship, is the latest brazen attack against press freedom and people's democratic rights which comes as precursor to martial law and Duterte's dictatorship.
In the Cordillera, the ABS-CBN Northern Luzon has been a dependable source of information for local news and has consistently provided ordinary people, especially indigenous peoples, a platform to present issues in our communities such as mining, dams, environment and human rights. We salute the reporters who have patiently sought the opinions of cause-oriented groups in the region to let our voices be heard.
We also extend our solidarity with the ABS-CBN workers who are now under threat of losing their jobs amid the pandemic. Where will more than 11,000 employees and talents find their means of livelihood? How about millions who rely on donations from Pantawid ng Pag-ibig for relief amid the absence of government support?
Ultimately, we should all stand united to fight the tyranny of the Duterte government at a time when the people are struggling to survive the pandemic. COVID-19 is the enemy, not the media, not the critics, not the people.
Share this: