CPA Statement: FREE SHERWIN DE VERA NOW!
December 13, 2017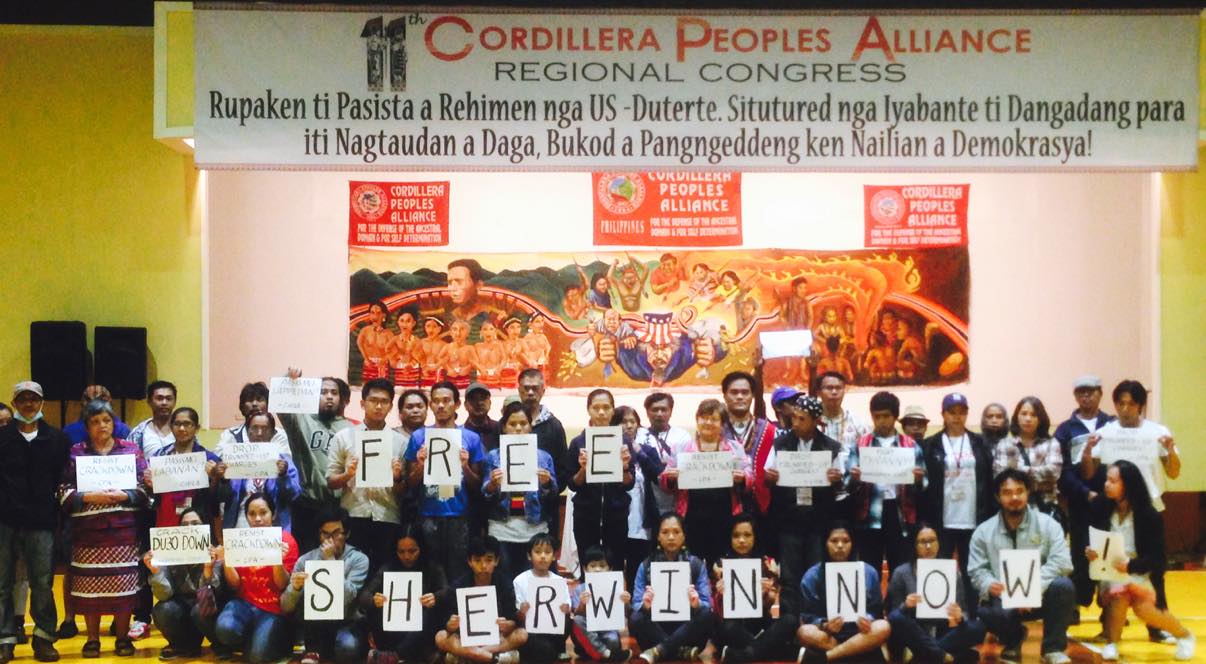 The Cordillera Peoples Alliance strongly condemns the arrest of Sherwin De Vera, calls for his immediate release and for the trumped-up charges against him to be dopped immediately.
Sherwin is the regional coordinator of Defend Ilocos and researcher of the Regional Development Center-Katinnulong dagiti Umili ti Amianan a Luzon (RDC-KADUAMI). Sherwin was arrested on December 12, 2017 between 6-6.30 in the evening by composite units of the Philippine National Police at Bulag Bantay, Ilocos Sur. Sherwin is slapped with trumped-up charges of rebellion filed on September 2014 in Bangued, Abra. He was on his way home to Candon City. He was forced out of the bus and handcuffed before being shown any warrant. He was brought to Camp Elpidio Quirino in Bantay, and latest reports from the Ilocos Human Rights Advocates (IHRA) say that he was just brought to the Abra Provincial Jail in Bangued, Abra.
Sherwin's arrest, and that of many other human rights violations across the county, manifests the hastening breakdown of democracy and unmasks further the tyrannical and fascist rule of Duterte, with clear support from imperialist US. It is both a crackdown against human rights defenders and a direct attack to the people. Such is the clear and present danger, with de-facto martial law upon the entire country and the distorted concept of a "revolutionary government" driven by the US-Duterte regime. Shortly after the ASEAN Summit, Duterte made again one pronouncement after the other making activists and the people open targets of more human rights violations. He has unmasked his unconditional subservience to US imperialism.
Sherwin's arrest, and before this the trumped-up charges against the five women human rights defenders in the Cordillera, signposts the crackdown on human rights defenders and civilian activists in northern Luzon. More than ever it is upon the people's collective action, will and might that can arrest this situation. To rise up against this tyranny is the just and right thing to do, and it is upon every individual do so.
"My arrest is a testament of Duterte's crackdown of political dissent. The lurking martial law and tyranny is now at hand. Our democracy, our democratic rights are now in clear present danger. We must rise up and oppose this tyranny,"
(Sherwin De Vera, texted from detention)
Rise Up Against Tyranny! Makibaka! Huwag Matakot!
For reference:
Windel Bolinget
Chairperson
Share this: