Response on the Sadanga Municipal Peace and Order Council (MPOC) resolution declaring the Cordillera Peoples Alliance and other leftist group as persona non grata in the municipality of Sadanga
June 22,2020
The attached letter is our response on the Sadanga Municipal Peace and Order Council (MPOC) resolution declaring the Cordillera Peoples Alliance and other leftist groups persona non grata in the municipality of Sadanga. The resolution was issued by Sadanga MPOC on May 18, 2020.
Recall that in 2018, the Municipal Council of Sagada, Provincial Board of Mountain Province, and City Council of Baguio passed resolutions requesting the government, through the Department of Justice, to drop from its terrorist list the names of former and current CPA leaders because they are not actually terrorists but instead human rights advocates. The Council of Bishops of the Episcopal Church of the Philippines (ECP) likewise issued a statement of condemnation. The names of CPA leaders were eventually dropped from the list.
On the recent Sadanga MPOC resolution declaring the CPA as persona non grata in the municipality, CPA sought the legal services of Atty. Jose Molintas. Please read the attached letter, which expounds the following points:
We respectfully submit that the MPOC as a government entity should have at least OBSERVED DUE PROCESS in every action taken involving its constituents. CPA, which has members in Sadanga, should have been invited to attend the MPOC meeting and allowed to present its side before the resolution was passed, if it was not ill-motivated.
When an individual or entity is declared persona non grata, it or he is branded as "unwanted or unwelcome person" for being undesirable. This negatively affects his person and his movement or liberty. Such declaration therefore is a form of public censure, which is a criminal penalty that can only be judicially imposed.
There is injustice in immediately declaring the CPA and publishing it as persona non grata without affording them the chance to refute the charges against them and publishing it, which is misuse of power and abuse of authority tantamount to a breach of the trust reposed on them as public officials in violation of Section 3(e) of RA No. 3019, otherwise known as the Anti-Graft and Corrupt Practices Act which is a criminal act.
We now demand that within 10 days from notice, the MPOC resolution be RECALLED and REMOVED from the post of Hon. Mayor Ganggangan with apology for the harm done; otherwise we will be constrained to immediately file the appropriate administrative and criminal actions against the individual members who signed and refuse to recall said resolution.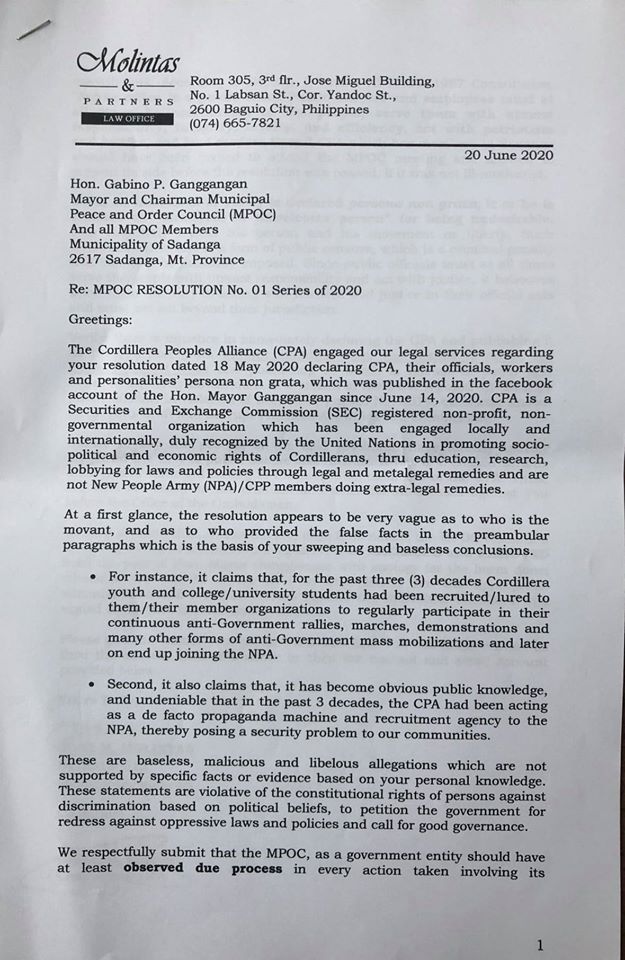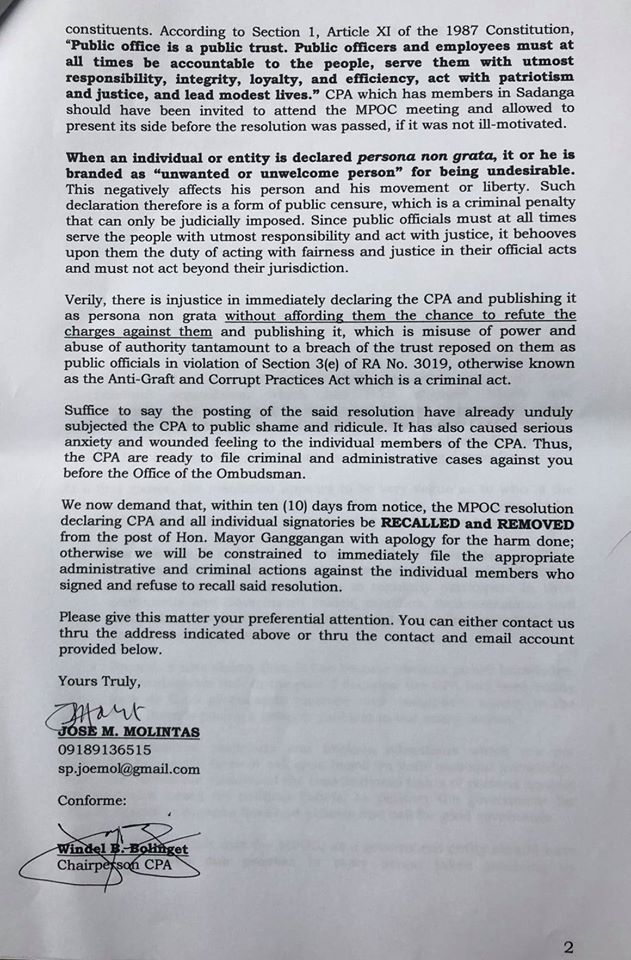 Share this: