CPA DENOUNCES RECENT HARASSMENT, CALLS FOR UNITY AGAINST TYRANNY
April 1, 2018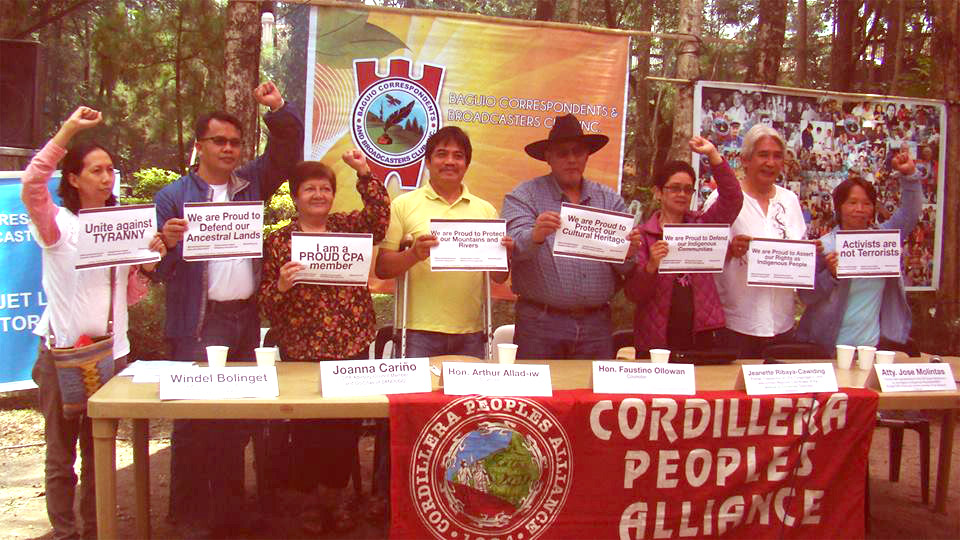 PRESS RELEASE
BAGUIO CITY- "The Duterte and his butchers has no respect nor honor, ordering harassment against activists and the marginalized even during the Lenten season which is supposedly a time for peace and reflection for everyone," says Windel Bolinget, chairperson of the Cordillera Peoples Alliance.
In a press conference last March 31 at the Baguio Correspondents and Broadcasters Club's (BCBC) yearly media camp, Bolinget brought up two incidents last March 29 and 30, 2018. Last March 29, an unidentified man was caught on camera posting a sign outside the CPA office at around three in the morning. The sign says "NPA sagabal sa ikakaunlad ng bansa". He used a black Mitsubishi land rover without plates.
On March 30 there was an attempted break-in at the residence of Audrey Beltran, current vice-chairperson of the Cordillera Human Rights Alliance (CHRA) at around one in the morning. It is highly probable that they did not pursue breaking in when they heard that the residents were calling for response of the Baguio Central Police Station. The Cordillera Human Rights Alliance is one of the organizations in the region leading advocacy campaigns against militarization and human rights violations. CHRA has been working hand in hand with CPA especially in providing legal services in marginalized communities and recently, for victims of trumped up charges.
"Given with current political situation in the country, we cannot simply dismiss this two incidents as isolated cases. We cannot undermine the probability of these cases as part the continuous political vilification under Oplan Kapayapaan against people involved in raising critical and legitimate dissent against tyranny. Duterte attacks our livelihood by approving price hikes without raising wages and by letting contractualization persist. He attacks our ancestral lands by conniving with big foreign mining and energy companies to plunder our natural resources. He attacks our communities by bombing us and by starving us by denying us of relief goods when we oppose these projects. He harasses our organizations and our fellow activists when we try to bring these problems to the wider public. Now he calls us terrorists?"
"In our culture, we say mensinakde tako kayet. It means banding together in times of war or disaster in order to protect each other. It doesn't just mean being physically together but also to provide moral and emotional support to other members of the community. At the present, we have a disaster named Rodrigo Duterte sitting at the Malacanang acting as a tyrant. We must unite to fight his anti-people policies, make him accountable for his programs, and thwart any of his steps to remain in power," Bolinget says.###
For reference: Windel Bolinget, chairperson
Share this: