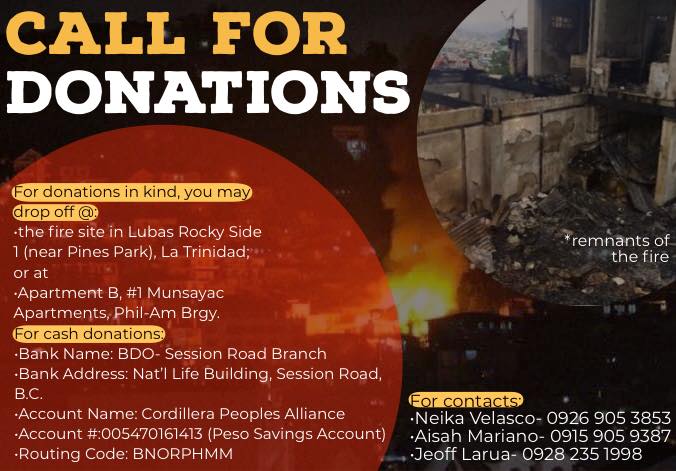 Friends and Kakailians!
The Cordillera Peoples Alliance (CPA) and its Metro Baguio Chapter, Tongtongan Ti Umili (TTU), humbly request your urgent support for the family of Mr. Reynald Velasco and Mrs. Georgia Velasco who lost their entire house located at Lubas, La Trinidad, Benguet in a devastating fire on the evening of August 24, 2020. Fortunately, no one was injured in the family.
The family, together with volunteers, are now clearing the debris left by the disaster. The family hopes that a roof will be put up and some repairs will be carried out soon so they could go back and continue to live in the house.
Georgia Velasco is a member of the CPA Regional Executive Committee while Reynaldo Velasco is a volunteer of the CPA People's Welfare Commission and has been very active in delivering support and relief aid to indigenous communities since the Corona virus broke out.
Your support in the form of material and or cash donations will greatly help the Velasco family cope with the disaster and slowly rebuild their lives and home. They weren't able to save any belongings and are urgently in need of the following materials or cash to purchase these:
Kitchen utensils, Cook ware, Burner stove
Clothes
Mattress/ Foam, Beddings
Water Dispenser, Thermos, Pails and Bas
Food
Brand new GI sheets, Cement, Steel bars, Sand
Bathroom essentials (toilettries)
Thank you very much in advance!
Share this: