October 26, 2014
Like us on Facebook: Cordillera Peoples Alliance
---
ANNOUNCEMENTS:
Save the Date: October 29 l 1PM l Bishop's House Compound, Baguio City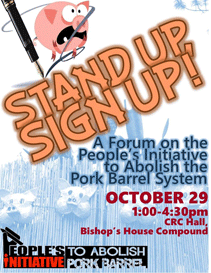 ---
Save the Date: October 20 l 8AM l Post Office Park Baguio City
SUMIKAD, KORDILYERA: Protesta ti Umili Kontra Militarisasyon ken Nailian a Panangidadanes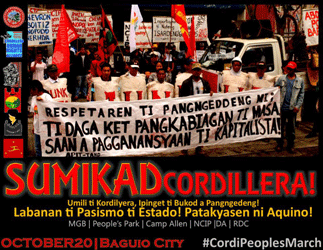 ---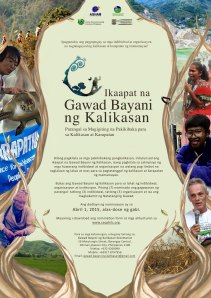 Call for 4th Gawad Bayani ng Kalikasan Awards
Nomination forms and other information on GBK can be accessed at http://www.cecphils.org/. Winners will be publicly presented in an awarding ceremony on December 2015.
---
PUBLICATIONS:
Published by the Asia Indigenous Peoples Pact (AIPP)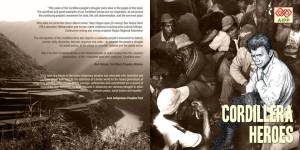 Copies are sold at the Cordillera Peoples Alliance Regional Office and Mount Cloud Bookstore
---
CPA FRIENDS ABROAD
The Cordillera Peoples' Alliance Friends Abroad (CPA Friends Abroad) is a broad international network composed of individuals and groups in different countries who are supportive of CPA's program for the promotion of indigenous peoples' rights and welfare.
IPRA and NCIP: 17 Years of Indigenous Peoples' Rights Violations

October 29, 2014 marks 17 years of the Indigenous Peoples Rights Act or RA 8371. The Cordillera Peoples Alliance is issuing this paper to iterate anew its evaluation of and position rejecting the IPRA and declaration for the abolition of NCIP.

On the Abduction and Enforced Disappearance of the 43 Students of Ayotzinapa School in Guerrero, Mexico

The Cordillera Peoples Alliance (CPA) from the Philippines and the International Indigenous Peoples Movement for Self Determination and Liberation (IPMSDL) are in solidarity with you in condemning in the strongest terms the abduction and enforced disappearance of the 43 students of the Ayotzinapa School in Guerrero, Mexico. We are one with you in the urgent demand for justice to the victims and their families and communities and the call to ensure State accountability and an end to impunity of narco-government agents who are responsible in the enforced disappearance of the 43 students of Ayotzinapa.

SUMIKAD Cordi People's Protest Condemns IP Rights Violations, Militarization

On October 20, hundreds of indigenous peoples (IP), advocates and families of victims of human rights and international humanitarian law violations marched the streets of Baguio City and highlighted the pressing issues of state fascism and national oppression.

Umili ti Kordilyera, Ipinget ti Bukod a Pangngeddeng! Labanan ti Pasismo ti Estado! Patakyasen ni Aquino!

Gumilgil – ayab nga unget, lumawlawa a pannakilaban, agal – allangugan a pukkaw para iti hustisya daytoy ti agdama a kasasaad dagiti umili iti intero a komunidad isunga isayangkat daytoy a protesta dagiti umili ti Kordilyera ita nga aldaw gapu iti umir – irteng ken sistematiko a panaglabsing iti kolektibo ken pangtao a karbengan dagiti nainsigudan nga umili ti rehiyon babaen ti pasismo ti Estado, nakaro a militarisasyon ken nailian a panangidadanes

Salvador Family Statement: Justice for Engr. Delle Salvador, Justice for Lacub

On the 40th day of her death, as we commemorate her life and workds, as we try to pick up the pieces and rebuild our lives shattered by this tragic event, the family, relatives, friends and the UCCP Community long for justice to be served!

Pablaak ti APIT TAKO: Oktubre, Bulan dagiti Pesante

Ti bulan ti Oktobre ket nagbalin a Philippine Peasant Movement agsipud ta iti daytoy a bulan nga indeklara ti pimmusay a Diktador a ni Ferdinand E. Marcos, ti Presidential Decree 27, ti umuna a bogus a reporma iti daga, maysa a bulan kalpasan na nga indeklara ti Martial Law. Tinawen a laglagipen daytoy ti Philippine Peasant Movement wenno ti Kilusang Magbubukid ng Pilipinas (KMP).

Cordillera Heroes: Remembering Ama Daniel Ngayaan (1922-1987)

27 years ago, tribal elder and leader Daniel Ngayaan was abducted and killed in Cagaluan gate, Pasil, Kalinga province, by the Cordillera Peoples Liberation Army (CPLA). His remains were never found. 27 years after his abduction, his family, clan, friends, kailian and organisation have yet to say that justice has been served. On October 5, 2014 we remember and honor Ama Daniel, hero and martyr of the Cordillera peoples' struggle.

National Solidarity Mission (NSM) to Lacub, Abra: Initial Report

The NSM on Sept. 28-Oct.1 in Lacub, Abra was held in response to the reports of human rights and international humanitarian law violations committed by the AFP specifically the 41st Infantry Battalion, in the course of their military operation in the said municipality. The NSM was hosted by TULBEK and KASTAN-CPA Abra with the Cordillera Human Rights Alliance. It was participated in by more than a hundred delegates from different regions and from national organizations.

Urgent Call for the Immediate Cessation of AFP Military Operations in Lacub, Abra

We call on all peace and human rights advocates--individuals, institutions, the Church, people's organizations, the academe and other groups to support the call of the people of Lacub, Abra in the Cordillera Region, Philippines, for the immediate cessation of the military operations of the Armed Forces of the Philippines (AFP) therein and nearby communities.

President Aquino heckled by indigenous peoples in NY

Accented by their traditional garbs, the indigenous peoples from Igorot and Lumad tribes staged a rally in New York over the President's 'ineptness and criminal negligence'.

CPA Intervention at the UN WCIP Round Table 2: Implementation of the rights of indigenous peoples at the national and local level

It is a fact that our collective rights as indigenous peoples especially at the national and local level have been historically violated up to the present in spite of the adoption of the UN Declaration on the Rights of Indigenous Peoples Rights (UNDRIP) and other international standards.

CPA Intervention at UN WCIP Round Table 3: Indigenous Peoplesí Lands, Territories and Resources

We express our utmost concern on the WCIP Outcome Document having made no explicit mention of indigenous peoples' self-determination.

CPA co-organizes series of activities during UN World Conference on Indigenous Peoples and UN Climate Summit

From September 19-24 in New York, the Cordillera Peoples Alliance, joint with the international Indigenous Peoples Movement for Self Determination and Liberation (IPMSDL), Land is Life, Asia Pacific Indigenous Youth Network (APIYN), International League of Peoples Struggles (ILPS), and BAYAN-USA organized various activities during the UN World Conference on Indigenous Peoples (WCIP) and UN Climate Summit.

CPA calls for immediate pull out of AFP troops in Abra at the UN World Conference on Indigenous Peoples

The military operations in Abra must immediately stop and the AFP units in the area pulled out. The Comprehensive Agreement to the Respect of Human Rights and International Humanitarian Law (CARHRIHL) and other international humanitarian instruments must likewise be implemented in order that human rights is respected.
VIDEOS:
People's General Assembly on Development Justice
The People's General Assembly on September 24, 2014 in Manhattan, New York was co organised by the IBON International, Indigenous Peoples Movement for Self-Determination and Liberation (IPMSDL) of which the Cordillera Peoples Alliance is a member; Campaign for People's Goals for Sustainable Development, Asia Pacific Forum on Women, Law and Development (APWLD), and Women's Environment and Development Organisation (WEDO). The CPA was among the panelists in this important assembly parallel to the World Conference on Indigenous Peoples.
---
Cordillera Day 2014: From Chico to Chevron
Just before the visit of U.S. President Barack Obama to the Philippines, the main celebration of the 30th Cordillera Day in Guinaang, Pasil, Kalinga was held on April 23-25, 2014 with some 4,000 local and international delegates participating. As a fitting tribute to the martyrdom of Macliing Dulag, Pedro Dungoc and other heroes of the Cordilleras, a historic Unity Pact is forged by present-day tribal elders and leaders to resist imperialist plunder of their land and resources. It was the World Bank Chico River Dam project before, now there's Makilala Mining, a subsidiary of U.S. company Phelps-Dodge, and the Chevron Geothermal project.
---
Produced by the Tan-aw Multimedia Collective, Health Action Information Network (HAIN), the Save the Abra River Movement (STARM), Montañosa Relief and Rehabilitation Services (MRRS), and Cordillera Peoples Alliance, Toxic Gold presents the effects and impacts of Lepanto Consolidated Mining Corporation's bulk mining operations to the Abra River and the indigenous and peasant communities by the river. Apart from the environmental, social and agricultural impacts, the documentary presents the plight of Lepanto's underground mine workers. It runs for 24 minutes.
---
Produced by Cordillera Peoples Alliance and Southern Tagalog Exposure in 2002. The documentary delves on the importance of the Agno River to the people of Itogon, Benguet and Pangasinan and how the San Roque Dam Project will take away the right to land and livelihood of the people. The people's struggle against the government flagship project rages despite the impoundment of water in the dam.
---
Excerpt from That the Mountains May Chant the Truth from Cordillera Human Rights Alliance
---
Links to Other Videos: