Last Update: February 6, 2013
The Cordillera Peoples Alliance (CPA) dedicates this website to all indigenous peoples and to all oppressed peoples of the world. Hopefully, this website will serve as a portal, or digital window, for the general public to be able to appreciate more deeply the history, the present situation, the long-term aspirations and the current efforts of Cordillera's indigenous peoples.
---
HAPIT: The Official Publication of the Cordillera Peoples Alliance (CPA). Subscriptions for 2013 third and fourth quarter issues now available. Hapit is the rootword of the Ifugao term "hahapitan", meaning community dialogue.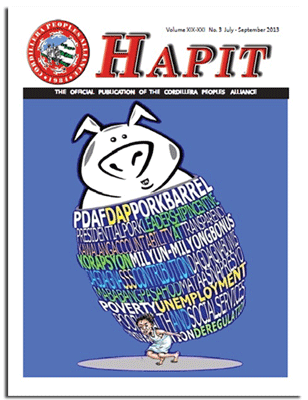 ---
---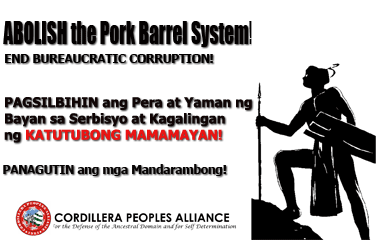 ---
VIDEOS:
Cordillera Day 2013-Baguio City Celebration Videos at VIMEO.COM: http://vimeo.com/64804246 and http://vimeo.com/64972297
Aldaw Kordilyera: A People's Struggle (Cordillera 1984-1998) http://vimeo.com/19961862
Agno (http://vimeo.com/7083488)
Taxi Filippino (http://vimeo.com/6732802)
CPA Friends-Abroad (http://vimeo.com/13776835)
Excerpt from That the Mountains May Chant the Truth (http://vimeo.com/43714457)
Sabidong ti Balitok (http://vimeo.com/21102659)